Stage Sound
Welcome to the www.Soundman.co.nz web site. This is the official web site of Stage Sound Ent Ltd (Est 1973)
High performance audio is our passion so if its yours too then you've come to the right place!
We can assist you with sound hire, sound system sales and installation, consulting, audio repair work and just plain old good free advice.
Please note! If you enter StageSound.co.nz into a search engine you will enter an opposition companies web site who registered the two main words in our company name. Don't be fooled! This company is not Stage Sound Ent Ltd and never will be! We have never attempted to register another companies name and will never stoop to these depths in order to deceive!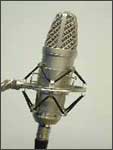 The purpose of this site apart from our own promotional motives, is to allow the user to access a good range of
information
on pro audio,
system design
, operation, products and resources. We are also able to help with a broad range of associated applications including video, lighting systems and staging having had 40 years in the industry. It is our intention to try to help you get it right first time. We are equiped with all the skills to produce a large
outdoor concert
that includes, staging, sound, lighting and stage managment.
Over our many years of operation we have done over 200 audio system installations and have produced concerts in venues up to the size of the Logan Campbell Centre. This site is intended for use by all persons who have an interest in this subject or would like to access our extensive range of services, products or user information on sound reinforcement and production.
We manufacture New Zealand's only anti reverberation loudspeaker product being our remarkable CFH 400 coaxial horn, molded from fiber glass having amazing efficiency and frequency responce (150 Hz to 20kHz) and power handling (1000 watts) that is not exceeded by any simalar imported product at even close to the same price. These have been used with great success in parks, concert venues, schools, churches, gymnasiums, and nightclubs. If you are having problems in a venue with excessive reverberation, then please let us demonstrate these speakers to you when the chamber is empty and the reverberation is at its very worst. You will be in for a pleasant surprise!
We were recently asked to assist a Catholic school who were attempting to hold a religiuos mass for the whole college in their large gymnasium. However the rerverberation was so severe, their existing sound system was unable to cope with it and we called in and asked if we could offer them a viable solution. We placed a pair of our CFH400 coaxial horns on tall hoist stands and a single double 15 inch sub in one corner of the hall and achieved 10 words out of 10 legibillity right across the entire seated area. Problem solved. Since then we have been asked back three times to provide the same service.
Anorther example of inovation is our double 12 inch crossbar composite speaker system. We were asked to do a street cycle race for Peter and Sarah Ulmer and they had previuosly experienced severe slapback (echo) problems with previous events. The key to making this work, is to not fire sound at the shops directly oposite but in order to achieve this you must use a pair of speakers in the place of one to get the 180 degrees of coverage necessary. Running a pair of speakers angled in opposite directions completly stops the echo and improves the coverage radically. This concept worked perfectly in practice, much to the clients satisfaction. Suffice is to say we were invited to do the same event the following year.
If you are looking for good advice or useful information on any aspect of sound reinforcement or Pro Audio, please don't hesitate to call our owner manager Paul Johansen on ph: 444 8776. Paul has over 40 years experience in all aspects of sound reinforcement including product design, installation, hire and sound production for events of all kinds. Some of what he says may well contradict convention but honesty has never had an acceptable substitute as far as he is concerned. You get facts instead of myths or hype.
Our intended client base is:
Event Producers, Bands, DJs, Schools, Churches, Theater Groups, Corporates, Sound Engineers, Nightclubs, Bars, Dance Groups, Sports Clubs, Gymnasiums, and Enthusiastic Amateurs.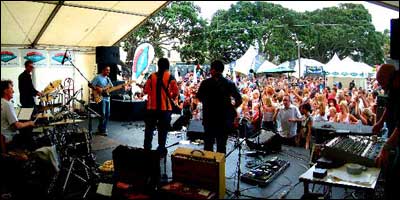 Ricki Morris and his band on stage using a small Stage Sound "A rig" at the Devonport Wine and Food Festival.