Computer Music System
The New Stage Sound Music Manager.
The original Computer Music System concept was based on an idea by Paul Johansen in 1994 but the code itself was written by Kevin Donnelly who is still employed part time by CMS Ltd.
Following a parting of the ways in 2001 Stage Sound End Ltd now has no association whatsoever with the Auckland based company CMS Ltd or Computer Music Systems Ltd.
Having now transferred the ownership rights of the original software to CMS Ltd, it was decided to seek the services of another competent code writer and completely re-design the music programing software.
The new system while aimed at the dry hire market is also suitable for smaller bars and restaurants etc without any modification whatsoever. It has to date however only ever been used in private party applications. It has been developed to the point now where it can demonstrate total reliability and has performed as promised in every way. Major improvements over the old system are as follows. The left hand library box cannot be erased, lost or removed even temporarily. The search or ordering search engine is almost instant unlike the old far slower system. A program track pointer shows the user where in the playlist the program is playing and returns to the same point if a request is displayed automatically. Playlists can be saved without a keyboard. Cross fading and volume normalising are included and the volume leveling system is very accurate. One key searches speed up track location and there are three ways of selecting a track to add to the list. Lists are easily closed or opened using only the mouse and the length of the list is recorded in hours and minutes. Tracks can be highlighted for selection or rejection later. Dedicated lists can be made and stored by the administrator password protected section. The library list can be ordered by genre then by track or artist to stop bunching. This means that if there is no time to make a playlist, genre selection can be used without several tracks being played by the same artist.
Stage Sound are looking for partners and or users for this exciting product, which we are prepared to develop to any standard of customisation for any application that has a viable market.
The Original DCM2000 History.
In 1996 Paul Johansen and Kevin Donnelly MSC embarked on an ambitious project based on an idea by Paul that would combine a data base with an Mp3 music player. At the time we thought this was a revolutionary concept although a French company called Delta was already using similar software in radio station applications. We of course did not know this. Two years and thousands of dollars later we began field trials in three North Shore Hotels. They were The Browns, The Greenfield Tavern and The Esplanade Hotel in Devonport. A separate company called CMS Ltd broke away from Stage Sound in 1999 and went on to become NZ's biggest Audio Video Music provider at the time.
Unfortunately managerial differences resulted in Paul having to accept a complete split from CMS Ltd in 2001. Following this Paul employed a highly competent encoder and completely rewrote the software for dry hire applications while retaining some of the better aspects of the original DMC2000 system. The object of this exercise was to produce a system that could be taught to ten year old children in 5 minutes.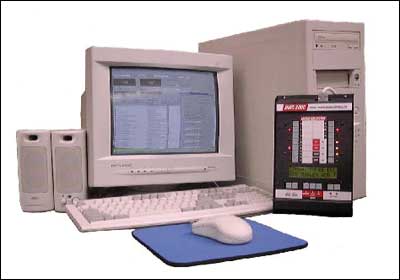 The DMC2000 was years ahead of its time