Listening Posts or CD Demonstrators
The CDSA-6 Listening Post or Compact Disc Demonstrators.
The CDSA-6 is the first totally self-contained 6 disc Listening Post System ever made in New Zealand.
The design was the combined effort of Paul Johansen and Mike Jenkins on in 2003. It represents the culmination of 10 years experience in the design and manufacture of these products by our company and its highly innovative design does away with installation costs. Its functions are fast, concise and accurate allowing the user to skate all over a CD in just a few minutes. As an auditioning system there is none faster or more compact available anywhere to our knowledge. It has a very small footprint and can be mounted with only four fasteners on any stable surface anywhere in the shop.
Its rugged steel plate construction makes it very difficult to damage or break open and so having to place systems in areas that are more awkward for staff to police is therefore less of a problem for shop managers. These units are tamper-proof - a pocket knife or screwdriver would be of no use!!
Apart from a mains supply it requires no connecting cable between the controller and the CD player because the player is built in. The robust steel case incorporates a vandal proof lockable compartment that houses the removable 6 disc CD storage cartridge. A great deal of attention has been given to the security aspects of the CDSA-6. The CD drawer has an extremely strong rebated cover lid that incorporates a high quality Adlib lock and key system intended to make the unit virtually bullet proof to both thieves and vandals.
As with all our range of listening posts the headphone stirrup has a switch hook trigger that shuts down the player mechanism when the headphones are hung up after use to save valuable hours of wear and tear on the player mechanism. Even if the headphones are not properly hung up a unique timer shuts the mechanism down automatically if no button is pressed for 5 minutes. A green backlit LCD display shows the disc and track numbers and the unit also have an elapsed time readout for user convenience. High quality long life buttons are used in the controller module and a polycarbonate label is used that has been rear printed for long life. As usual the headphones are included in the price as are the plug pack and disc cartridge. This CDSA-6 can also be supplied without the outer case to be flush mounted.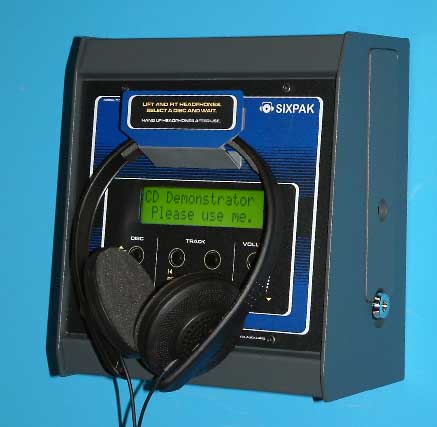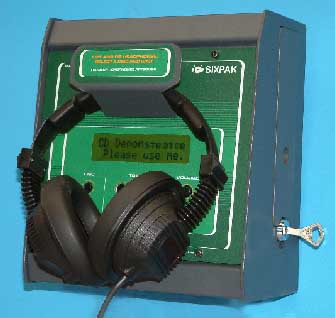 The CDSA-6 is flagship of the listening posts.
The version built for Progressive Enterprises Ltd.
General features:
Disc select buttons
Track up and down buttons
Fast forward and reverse
Volume up and down buttons
Protected backlit LCD display
Auto stop switch hook system
Quality headphones included
Lockable CD drawer
Long life buttons
Strong steel case design
Very fast disc changer mechanism
Optional customised ID labels available
Optional wall mounting CD storage cases available
Super lightweight switch mode type plug pack
Rebated Perspex cover protects the LCD display
Re-programmable flash type microprocessor design
Purchasing options:
The one off trade user price is $1500+GST with a 10% cash discount.
An extra discount may apply to quantities of 5 units or more.
As of at July 2011 we have been unable to supply quatities of less than 5 peices due to changer mechanism minimum order quantities.
A special price break occurs at 10 pieces with larger quantities quoted on an individual basis that is tied to warrantee and back up servicing.
Hire to Buy on no deposit terms may be available to approved purchasers through our associated leasing company. Normal lending criterion will apply.
Straight rental deals are also available to selected clients with prices quoted based on the agreed term and the number of units required.
The CDSA-5 Listening Post. (Obsolete from 2008 onwards)
The CDSA-5 was designed to drive a Sony 5 disc rotary CD changer. This model was very popular with the large chains and many substantial installations were done over a 12 year period. The player was located remotely at the end of a cable of any reasonable length and the controller was cut into a wall or browser. The controller logged user selections and the switch hook turned the player off when the headphones were parked. We are still able to build these units in quantities of 20 units but to all intents and purposes they have been superseded by the above CDSA-6 which is a far more comprehensive system and has more features and flexibility in both modes of installation. Price approx: $1050+GST $NZ ea. (Dependent on quantity.)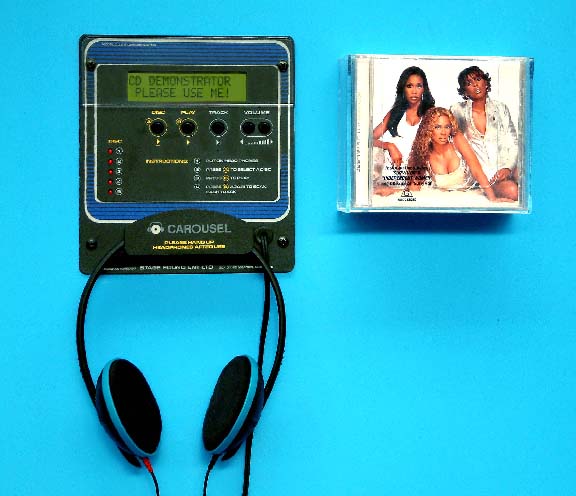 The CDSA-5 was the biggest selling listening post.
The Solo Listening Post. (Obsolete from 2008 onwards.)
The Solo utilises a single disc Yamaha player and its most popular application is for counter auditioning. The player remains out of reach of the customer but all the useful controls are brought out to the controller user surface. They have a track select, fast forward / reverse and volume up / down buttons. The switch hook turns the player off when the headphones are parked. These units are made to order in quantities of two or more, with a lead time of around three weeks usually.
Price approx: $850 NZ ea. 15% Discount for quantities of 5 or more.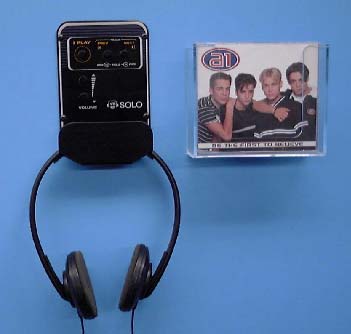 Contact: Paul Johansen.
Proudly manufactured in New Zealand by Stage Sound End Ltd. Ph: +64 9 444 8776.