Coaxial Horn Loudspeaker System
The CFH 400 Coaxial Horn Loudspeaker
The CFH 400 project began in 1995. The original coaxial horn design was the brain child of Paul Johansen who was helped by Tom Cochrane and Graham Bowers who at the time were working for Axent Audio Ltd in New Lynn. The product would not have seen the light of day without the mathematical input of Tom who calculated the flare shape. Graham and Kelly Waterman's willing support meant that accurate testing could be done in their modern acoustic chamber using their state of the art Hewlett Packard test rig.
This was indeed an exciting project and the final performance of the prototype exceeded all our expectations. The sound was very forward and transparent and it did not have the typical nasal quality normally associated with most horn speakers. This in itself was a huge bonus and quite unexpected.
Since the products inception 24 pairs have been sold and 10 units proudly form the mid high section of Stage Sounds 3 Way 30,000 watt A rig. A search by solicitors AJ Park and Son proved that his product could have sustained a worldwide patent because of the unique way the aluminum phase plug was constructed to combine the twelve inch mid component with the one inch high frequency compression driver.
Like so many other great NZ products its development has stalled, primarily due to NZs isolation from the international market place. In 2003 we had the opportunity of demonstrating it to John Lee, the major shareholder of Tom Lees Music in Hong Kong. This gentleman owns a chain of 17 music stores and a large PA company in Hong Kong. He also owns Canada's largest MI importing company and are that countries main Yamaha agent. This seemed to us like a very good break.
John Lee was so impressed with our CFH400 loudspeaker that he asked me if he could take a pair back to Hong Kong. We entered the usual negotiations and as fate would have it the whole idea bogged down in red tape. John withdrew his offer to cover the patent costs because I could not guarantee him a worldwide patent cover due to the unfortunate fact that I had already sold some. We could have, as it turned out, patented the product in China and the USA. However this was apparently not sufficient for Johns Company to commit to backing the project.
Installations to Date:
The first user was a substantial church group in Greenfield and they have been in use in this church since 1995 with total reliability and their client has been very pleased with their performance.
The second major install was for Kristin Schools auditorium which we believe is the largest private school auditorium in NZ. They use 6 units in their very large auditorium.
A major Auckland nightclub was fitted out with two pairs in 2002 for use over a very reverberant dance floor and the results proved their ability to reduce the muddying effects of reverberation substantially.
Three state schools have used them for assembly hall applications and we have been able to achieve 10 words out of 10 at the rear of an empty hall. This is very hard to to do without horn loading throughout the vocal range of the audio spectrum as the secret is in directivity.
Whangaporoa College uses a pair as a central vocal speaker cluster in their superb new theatre auditorium.
Stage Sound End Ltd have ten CFH400 coaxial horns in current use in their A rig which has received much critical acclaim for its clarity and projection.
Specifications:
Sensitivity 106 dB per watt meter.
Frequency response 180 Hz to 18 kHz +- 3 dB.
Directivity 60 degrees x 40 degrees
Cross over frequency 180 Hz and 2.3 kHz.
Power handling. 1000 watts AES
Impedance 8 ohms.
Components 1 inch B and C DE25 driver with 60x40 flare and 12 inch B and C PE-32.
Price guide $2500+GST per unit. Proudly manufactured in NZ by: Stage Sound End Ltd Ph: 0649 444 8776
Examples of applications where this speaker system has excelled.
We were asked to provide a sound system in a
park
for the Pacifka organisation. The system had to be capable of covering the
entire park
with speech but also had to sound good with music playback as well. As the park was 200 mtrs across this would be a daunting task unless a substancial ground stacked system was used or a line array which would require the expense of cranes or a tall scaffold assembly.
Normally tin horns would be used to fill this role but because the client wanted good music performance as well as clear speech this was not an option. Tin horns are capable of projecting voice a long distance but their music quality is very poor, as they can basically only reproduce mid range frequencies.
We decided to try the CFH400 speakers on tall hoist stands with
double 15 inch subs
on the ground and this turned out to be the correct descision. We succeeded in achieving 10 words out of 10 at the back fence 180 mtrs away! Needless to say the client was delighted.
We were asked to provide a sound system for a religiuos mass in a Catholic girls school gymnasium that was highly reverberant. They had their own sound system already permanently installed but had long since realised it was unusable. Stage Sound have a good reputation for solving problems so we were the logical choice for the assistant headmistress. Here again the specification was not only to provide excellent speech coverage and clarity but also to mic up the schools band and singing group to the satisfaction of a critical audience that included both staff and parents.
The CFH400 once again provided the complete solution. Every word was clearly heard and since the first function, we have been asked back 3 more times to performe the same role.
Latest Developments.
Drawings have been done of a more advanced version of this product using better tooling and resulting in an improved appearance and an even stronger construction. We are currently seeking an interested investor who would like to provide us with some investment to bring this exciting and highly advanced product to fruition. Any interested party is invited to contact Paul Johansen on PH: 444 8776 or email him at paul@soundman.co.nz
Preliminary Spec:
Frequency response: 100 Hz to 18Khz flat within +- 6 Db.
Power capacity: 1000 watts RMS or better. 3000 watts AES music power.
Sensitivity: 106 Db per watt meter.
Coverage dispersion: 100 degrees x 40 degrees.
Impedance: Bi amped only. Four ohms.
Crossover frequency: 2.3 KHz @ 18Db per octave or better.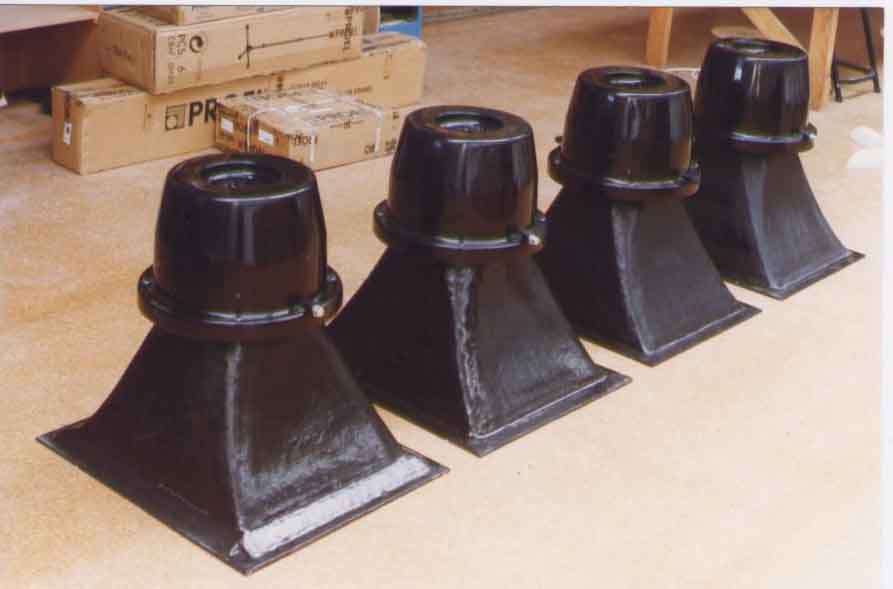 Four CFH 400 horns prior to final assembly.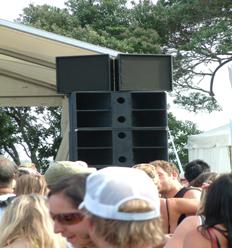 2 x CFH400 coaxial horns in sleeves sitting on W bins.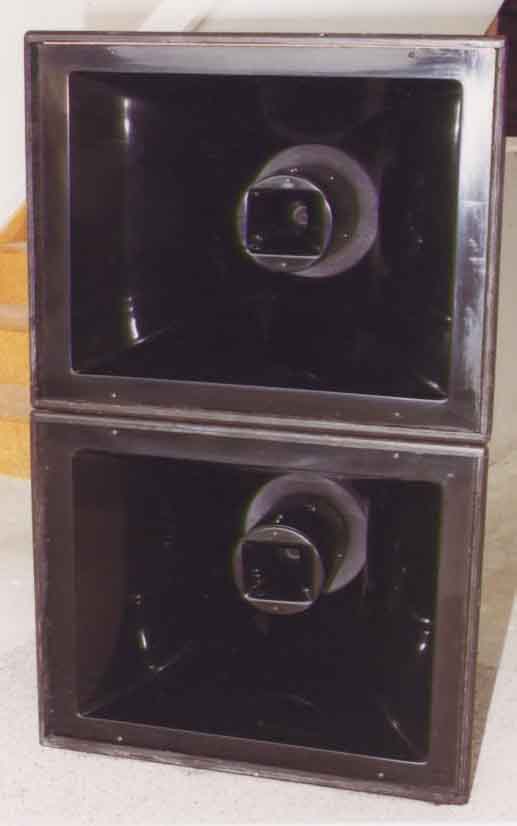 A front view showing the unique coaxial construction.